We have partnered with Rotten Dog Sports Lodge to bring you great classes using their dock diving pool. They have a fully fenced in pool area for group classes, private lessons, and pool rental hours. You can sign up to learn with us or just take your dog for a swim on your own. It's a great way to do something fun with your dog.
Swimming Class
Would you like your dog to learn to swim? Do you spend time near water or have a pool? Would you like your dog to learn something new while keeping cool in the warmer months? A swim group class is a great option to teach your dog how to swim, how to get out of water, and for you to know how to support him. In this 4-week class, you and your dog will work with the instructor to gain water knowledge to set your dog up for success. The dogs will work one at a time in the pool area. Dogs need to be people and dog social.
Four Weeks / Fee: $150
Puppy Swimming Class
Do you have a puppy who might enjoy the water? Do you have a puppy who you would like to experience new things? Our 4-week puppy swimming class is designed for puppies under 6 months of age. They are still developing and need lower impact activities like swimming to burn off energy. In this class, you will learn how to support your dog in the water, safety for puppies around water, and more! Puppies should be 3 to 6 months of age to join this class.
Four weeks / Fee: $135
Dock Diving Basics
Dock Diving is a fun water sport for dogs. This group class will start building the foundation skills to prepare you and your dog for it whether you want to compete or just get your dog in the water. In this four week course, we will teach you about dock and pool safety, how to introduce your dog to the pool and ramp, how to start them swimming and more. Prerequisites: Dog must be people and dog-friendly, 4 months or older, no physical issues. Lessons are held at Rotten Dog Lodge in Braselton.
Four weeks / Fee: $150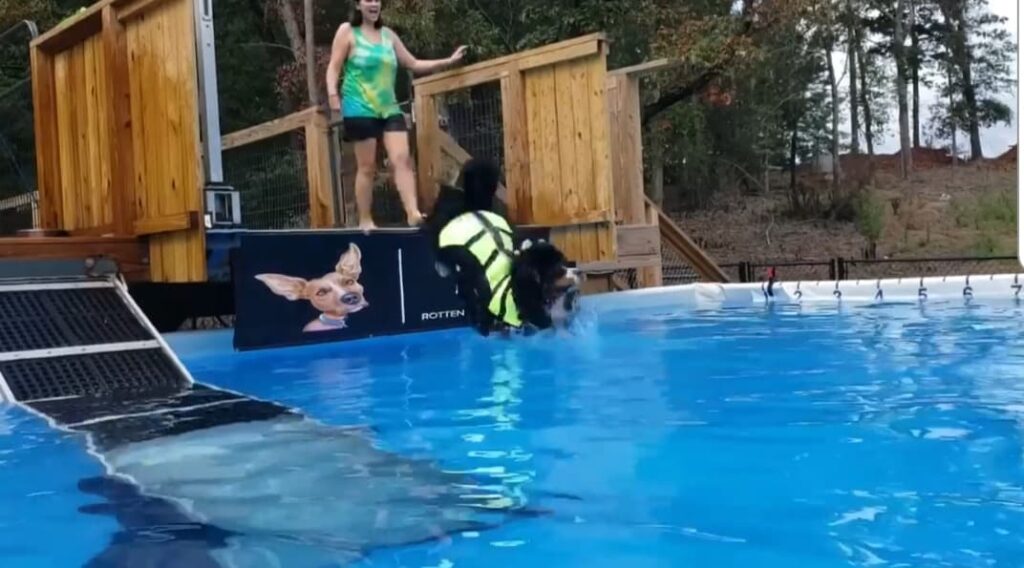 Private Pool Lessons
Would you like more one-on-one attention for swimming or dock diving? We offer 30 and 60 minute private lessons with our swimming instructor. You can email her to schedule your session.
Fees: $50 for 30-minutes $100 for 60-minutes
To rent the pool for an hour (or more) visit: Rotten Dog Sports Lodge
Do you want to get some pool toys? Then check out our list of recommendations here: http://www.caninecountryacademy.com/pooltoysfordogs/
If you have questions, please call us at 678-979-2016 or Contact Us.
REFUND POLICY: There are NO refunds once a class or service has been started. If you request a refund 48-hours prior to the start of a group class or private lesson or other services we will refund you minus the PayPal or processing fee of 3.5%.
If Canine Country Academy cancels the class or service you can choose a credit or full refund.
*This policy is effective as of 8/19/20.