I love making homemade dog treats for my dogs! They also love getting to try new recipes. What is great about making your own treats is you know exactly what the ingredients are, you can add variety, and save money. Plus it is fun. Here are I share our treat recipes. Check back for updates as we try new combinations.
Gobs of Cheesy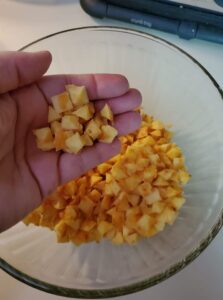 These treats are great for your pyramid pan or similar or you can spread onto a sheet pan then cut with a pizza cutter.
♡ Sharp Cheddar Cheese – lots!
♡ Eggs – 4
♡ Oil – 1 Tablespoon
♡ Sour Cream – 2 teaspoons
♡ Rice Flour – 1.5 to 2 cups
♡ Water – as needed for consistency
Preheat over to 350°
In a food processor pulse 1.5 cups of shredded cheddar cheese (or more) until it looks like salt granulars. Combine all ingredients into a bowl. The consistency should be like pancake batter. Then smear into pan. Bake for 20 minutes for crunchy treats. I do 10 to 15 minutes for first batch to check doneness.
Let cool before you store or share. This recipe will make three or so pyramid pan batches. Yum! To store, put in an air tight container in your refrigerator. These will last one to two weeks in the refrigerator. For longer storage freeze in airtight container. Then place in refrigerator the night before you plan on using them.
These are Terrier approved! They love homemade treats and cheese. Let us know if you try this recipe.
Peanut Butter Cookie Treats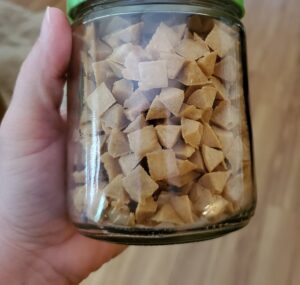 These can be made into a traditional peanut butter looking cookie with the hash marks or in the pyramid pan. Your whole house will smell delish!
♡ Peanut Butter (creamy) – 1 cup *make sure it does not contain xylitol
♡ Eggs – 2
♡ Rice Flour – 1.5 to 2 cups
♡ Water – as needed for consistency
Preheat over to 350°
In a large bowl, combine all of your ingredients until smooth. If you are going to make what looks like true peanut butter cookies you will want your batter a little thicker.
Bake for 15 to 20 minutes. For crunchy cookies, bake until desired doneness.
Allow to cool for 10 minutes before you dump into container or share with your dog. Keep stored in the refrigerator for two weeks or freezer for months. You can pop into the fridge the night before you need them for training or snacks.
Cheesy Bacon Dog Treats
♡ 3 or more slices of cooked bacon -10oz Chicken (Chicken, Salmon or Tuna)
♡ 2 eggs – 1.5 cups Rice Flour (or Flour of your choice)
♡ 1 TBLS Olive Oil (or Canola Oil)
♡ 1/2 cup Grated Parmesan Cheese
♡ Water to thin batter
Preheat oven to 350 degrees.
Blend bacon in a blender until finely chopped. Blend 10oz chicken with or without juice from can until smooth consistency. Then mix together with other ingredients. Add water as needed to create a slightly thicker batter than pancake batter. Smear into the Pyramind Pan until all holes are filled. Scrap off excess.
Bake for 12 minutes. Then cool in a large container. You can portion them into snack-sized bags to freeze to use as needed. If refrigerated only will only stay good about 1-week.
Easy Homemade Dog Treats
This is a simple recipe you can use as a template to create all kinds of tasty options for your dog treats. You can change up the meat, use plain apple sauce instead of egg, use other cheese, etc. You have full control of the ingredients.
♡ Ground Meat of your choice, cooked (1 cup)
♡ Rice Flour (1/2 cup)
♡ Egg (1 large)
♡ Olive oil (1 tablespoon)
♡ Cheddar cheese, grated and granular (1/2 cup)
♡ Water (as needed)
Preheat oven to 350
1. Grind cheese in blender or food processor until granulated.
2. Grind ground beef until pate consistency.
3. Mix all ingredients in a large bowl until well combined. It should be like thick pancake batter. Add water to get consistency needed.
4. Smear into pyramid pan and bake for 20 minutes.
5. Once cooled place in a sealed container or snack bags. Will keep for 1-week in refrigerator or months in the freezer. The clean-up is crazy easy! Make these once a month and you may not need to buy treats. You can store them in snack-sized bags in your freezer until you need them for training.