Scent Work is an amazing resource to have fun with your dog, boost confidence, give them a job and progress to compete in the sport. We primarily use Scent Work to improve dog behavior. That being said we also are skilled at preparing students for AKC, NACSW, UKC, and Performance Scent Dog competitions.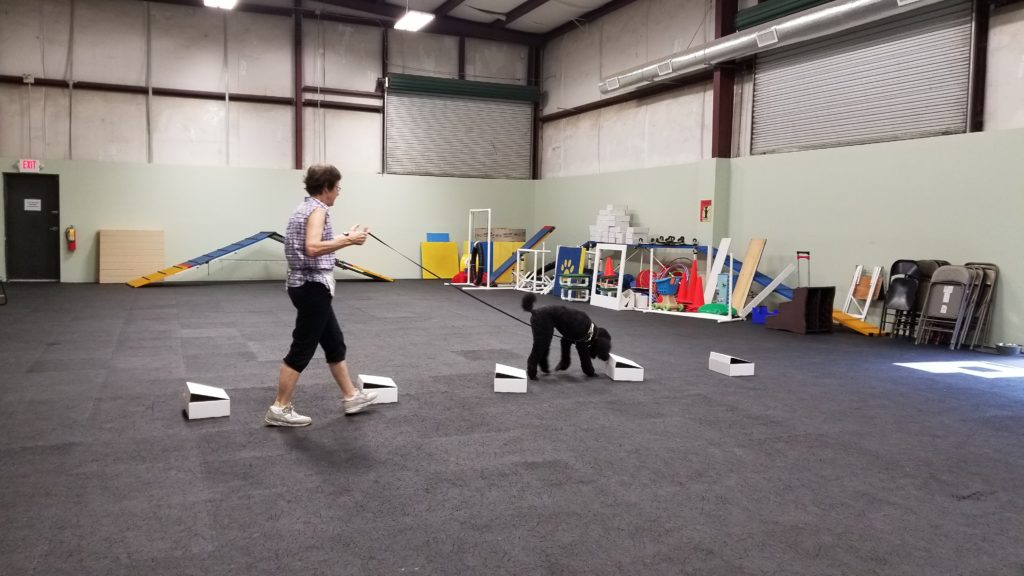 Scent Work Foundation
Scent Work is for any dog who has a nose! This activity will satisfy your dog's mental stimulation and olfactory needs (the need to SNIFF)! It is also very beneficial for dogs lacking in confidence or dogs who need a job. Scent Work Foundation is for all dogs of any age and any breed. This introductory course teaches your dog the foundation of the game, gets them focused and builds your dog's intensity to hunt. Depending on the dogs level of experience we will work all four elements of Scent Work (boxes, interior searches, exterior searches and vehicles) on their primary reward (food or toy). The human students will also learn to hone their own observation skills and enjoy watching their dogs have fun! Age range: all ages Pre-requisite: none, no training required.
Six weeks/ Fee: $185
Intro to Target Odor (birch)
You have completed Scent Work Foundation and your dog whispers in your ear "Let's compete…..I love this sniffing thing!" Intro to Target Odor is the next step towards preparing your dog for competitive scent work.
Dogs in this course will be imprinted on competition Birch odor. Handlers will also continue to hone their skills in leash work and supporting the dog as a team. Pre-requisite: dogs must be secure, motivated and focused on primary reward in all elements.
Six weeks/ Fee: $190
Advanced Scent Work Competition Prep
Is your dog proficient on a competition Scent Work odor? This Scent Work competition prep class is an off and onsite course where you and your dog will have the opportunity to practice searching for hides in simulated trial like environments. Multiple search environments in different locations will include interior and containers, exterior and vehicle work. This course also equips students with excellent competition handling skills and incorporates adding multiple odors for further competition. Pre-requisite: dogs must be proficient on at least one competition odor.
Six weeks/ Fee: $195
If you have questions, please call us at 678-979-2016 or Contact Us.