Your dog needs both physical and mental exercise daily. When you cannot get them physical exercise you can add in more more mental exercise and enrichment. This can be done through training new skills as well as food puzzles. Food puzzles can be simple or complicated. They can be used at meal time or for snacks when your dog needs an outlet and you need a moment to yourself.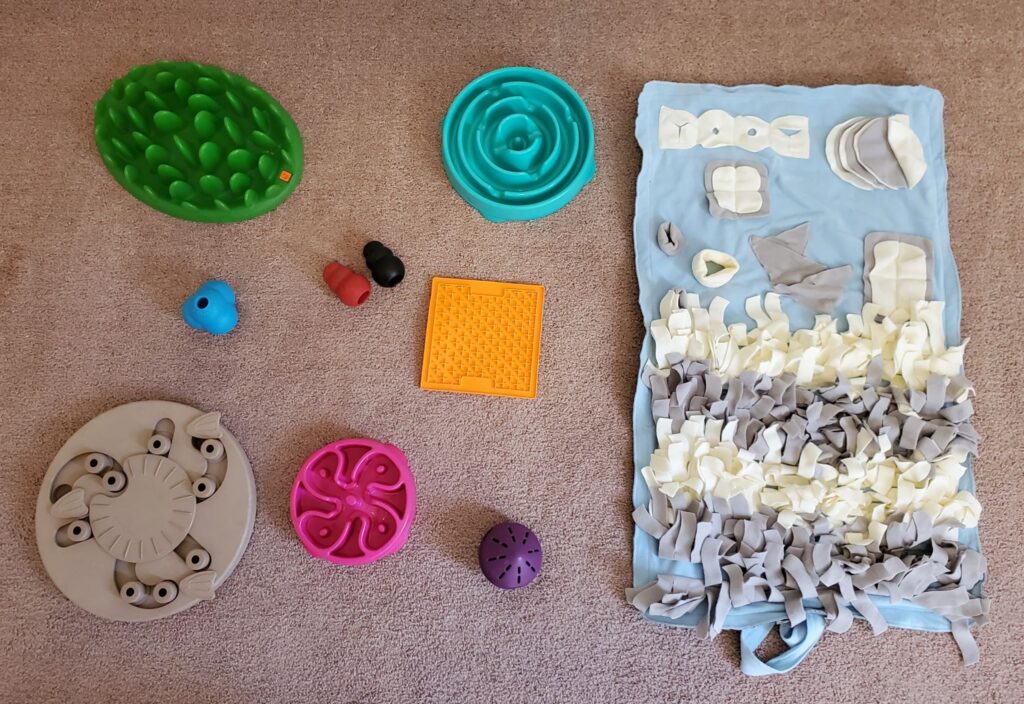 Most of these options should be supervised when in use since they can be destroyed or become a choking hazard. Even for items that may be okay without supervision, we recommend you watch the first few times to ensure safety.
For those who have multiple dogs, we recommend giving each dog their own space to enjoy working on puzzles and mental enrichment activities. These can become items to resource guard from another dog.
Disclaimer: This page may contain affiliate links. All opinions are our own. Per FTC guidelines, this website may be compensated by companies mentioned through affiliate programs. Any references to third party products, rates, or websites are subject to change without notice. Please do the appropriate research before participating in any third party offers.
EASY
Snuffle Mat by Corgi Nation (local company)
MEDIUM
Twist N' Treat (medium)* Twist N' Treat (small)*
Kong Classic – puppy*, red*, black*, senior
Atomic Treat Ball 3" or 5"*
CHALLENGING
Kong Wobbler (small and large)
Trixie Puzzle Move 2 Win (Level 2)
Nina Ottosson/Outward Hound Dog Worker Puzzle
If you have questions, please call us at 678-979-2016 or Contact Us.
DISCLAIMER: This page may contain affiliate links, which means that if you click on one of the product links, I'll receive a small commission. This helps support the business. Thank you for your support!