A very popular sport sweeping the Nation is barn hunt. In this sport, dogs search out a live rat (protected by a strong PVC tube). They also learn how to tunnel through bales of straw or hay and climb onto the bales. It is a fun sport that lets your dog be a dog. To learn more visit The Barn Hunt Association page.
These classes are held at our Lawrenceville, GA facility taught by our two Barn Hunt Instructors, Rachel Anderson and Paula Nowak.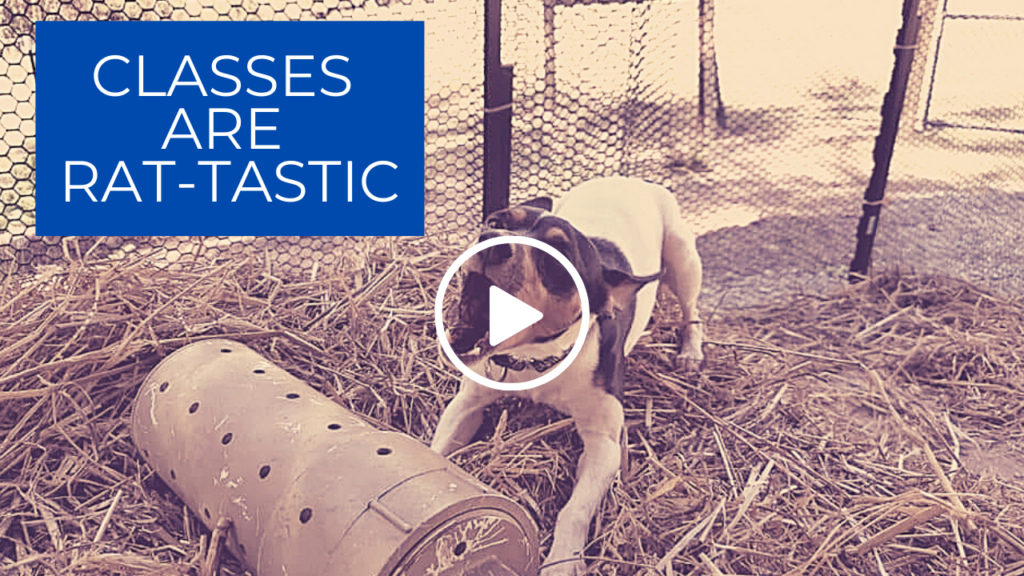 Novice Barn Hunt Class
Are you looking for another sniffing activity for your dog? Would you like to compete in this popular dog sport? All dogs love using their nose! So why not let them use it as they were designed to sniff out a target, in this case, a rat. In our barn hunt class, you will learn the basics of barn hunt, introduce your dog to finding a rat, and start working towards your first barn hunt event. Dogs should be people and dog social. They need to be 4 months or older to attend. You can work with multiple dogs in this class since they will take turns.
Four weeks / Fee: $175
Private Barn Hunt Lessons (30-minutes)
We are offering barn hunt lessons at our Lawrenceville facility. These are 30-minute sessions to introduce a new dog(s) to barn hunt and/or to work on skills for the Novice or Open level competitors. Dogs should be people and dog social. They need to be 4 months or older to attend. You are welcome to bring 1 to 2 dogs per 30-minute session.
30-minutes / Fee: $60 (if interested in an hour session you can book two 30-minute sessions)
Would you like to read more about Barn Hunt? Check out this excellent resource.
If you have questions, please call us at 678-979-2016 or Contact Us.
REFUND POLICY: There are NO refunds once a class or service has been started. If you request a refund 48-hours prior to the start of a group class or private lesson or other services we will refund you minus the PayPal or processing fee of 3.5%.
If Canine Country Academy cancels the class or service you can choose a credit or full refund.
*This policy is effective as of 8/19/20.
Disclaimer: This website may contain affiliate links. All opinions are our own. Per FTC guidelines, this website may be compensated by companies mentioned through affiliate programs. Any references to third-party products, rates, or websites are subject to change without notice. Please do the appropriate research before participating in any third-party offers.