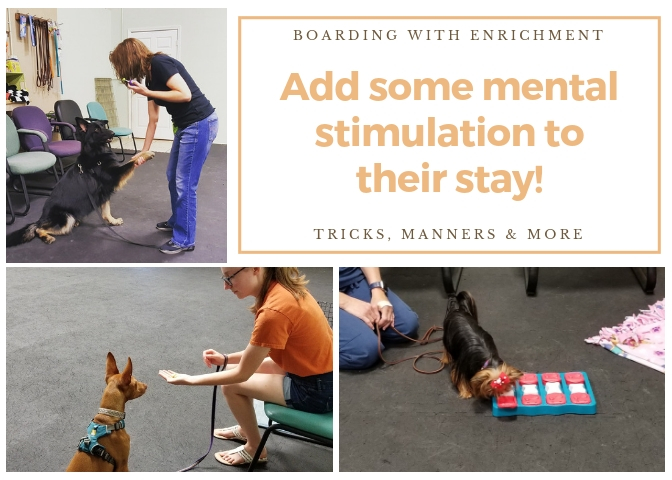 Would you like your dog to get a little more mental stimulation while they are in daycare or boarding at VCA Falcon Village?
Would you like them to learn impulse control, tricks and manners?
Would you like them to have even more fun working on brain games like scent work and problem solving puzzles?
VCA Falcon Village Animal Hospital and Canine Country Academy have partnered to provide enrichment to their amazing client dog's stay during daycare and boarding! While the dogs are staying at VCA Falcon Village they can learn new skills such as impulse control (wait, leave-it, go to mat), manners (sit, down, loose leash walking), tricks (shake, spin, touch), scent work and other games. Your dog will come home happier, more tired and smarter!
Your dog will enjoy a 30-minute enrichment session with one of Canine Country Academy's amazing trainers for each day they are signed up for enrichment. We will record their session so you can see how great they do learning new things while having fun.
This is an add-on service to your daycare or boarding fee with VCA Falcon Village. To get your dog started with enrichment during their stay, please follow this link to purchase your sessions. CLICK HERE
$30 a Session
Questions? Daycare and Boarding 770-962-8326 or email Enrichment and Training 678-979-2016 or Contact Us