Let's talk about something we here at Canine Country Academy love- Harnesses! One of the number one behaviors we're asked about is pulling on the leash either constantly or towards other dogs or people. Even a normally well-mannered dog who walks on a loose leash may see something, a squirrel, cat, or other dog, etc., that causes them to pull or lunge quickly so some people prefer to always use a harness.  In a perfect world, dogs would always automatically walk politely next to us with no pulling whatsoever, but for most dogs it's a behavior that we need to teach. Harnesses, particularly "no-pull" harnesses offer a safe way to walk our dogs while we work on those Loose Leash Walking skills.
What is a "no-pull" harness?
A "no-pull" harness is generally a harness that has both a front and back clip where you can attach a leash. Often with just a back clip a sled dog effect can be seen because it is natural to pull against a force that is pulling back (ie. them pulling you because you're pulling them!). If you think about how a dog pulls, the main "engine" is in the dog's chest, and if we can redirect that pulling through a front clip it makes it more difficult to carry on pulling forward. Again, ideally this is a safety measure while you and your dog work on your Loose Leash Walking skills, but that doesn't mean you should be stuck in the house until they're perfect!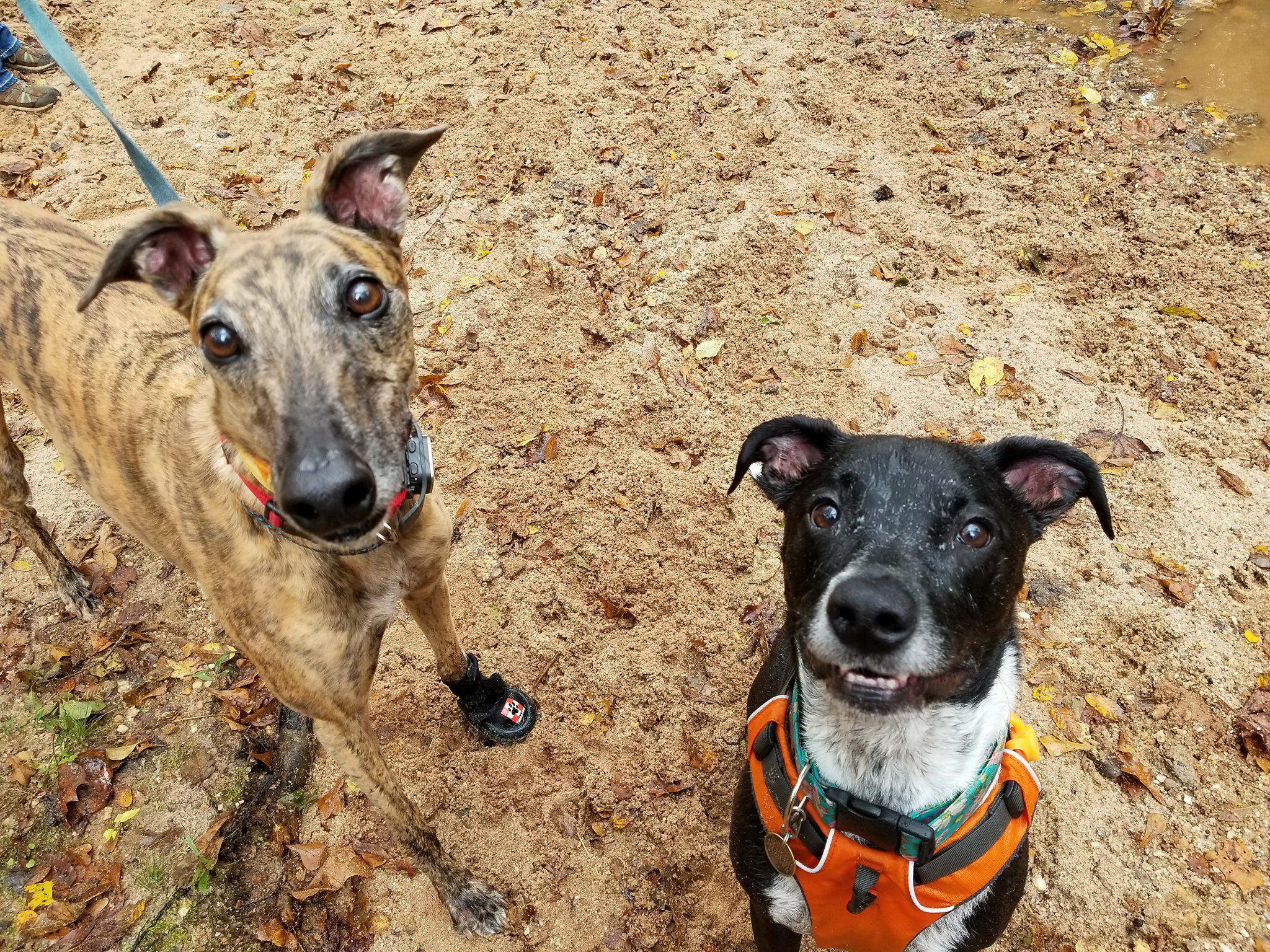 Problems with "no-pull" harnesses
We'll be honest with you, there are some issues with "no-pull" harnesses- most notably the possibility of injury and gait restriction. Whole Dog Journal did an excellent write up of this issue in this article. Essentially, quite a few harnesses have a front strap that impedes a dog's natural full gait and leg extension which can cause gait abnormalities. If you do use one of these harnesses, we recommend you don't allow your dog to do vigorous exercise such as running or playing with other dogs while wearing it so he can fully extend his legs and gait. Another problem we've noticed is if you have a dog who lunges and jumps and is only attached at the front clip he can flip himself over and injure himself. To avoid this issue our recommendation is to only use the front clip along with the back clip or if you have a dog who doesn't lunge. Despite these issues, we still recommend them (some more than others) because we find they help dogs and owners have a happier walking experience.
Harness Reviews
Let's get down to the nitty gritty (and probably why you're here). We haven't tested every single harness out there, but we have tested quite a few! Below are our collective reviews of the harnesses we've used, recommended, and seen others use. We'll be looking at comfort, affordability, adjustability, and general use we get out of each harness in our reviews along with certain issues or benefits we've noticed.
We really like the Ruffwear Front Range Harness. We sell them at our building and find that most dogs and owners who use the Front Range never turn back.
Comfort: The Front Range Harness has a padded back and front and offers four adjustable points on the chest and neck. It does not constrict like some other harnesses do, and allows for full range of motion of the dog's legs.
Adjustability: This harness has four points of adjustment, one on each side of the neck and one on each side of the chest.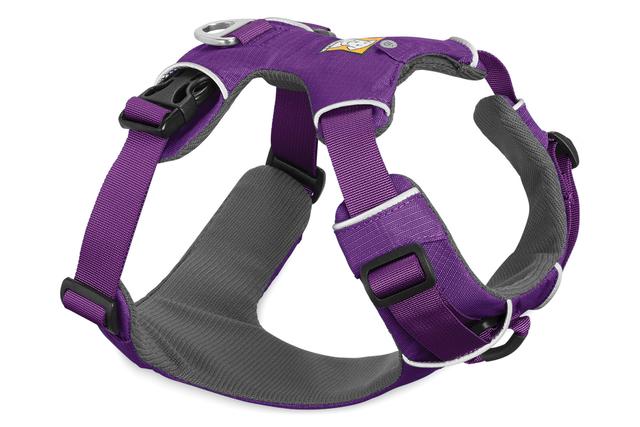 Affordability: Ruffwear has great quality products, and so they're priced accordingly. This harness costs around $40 for all sizes. Which means you'll pay the same for a Chihuahua sized harness as a Great Dane sized harness. Generally we suggest you wait until your dog is 2/3 of the way to being fully grown until you buy this harness simply because of the price.
Pros:
This harness has some of the largest sizing ranges of any that we've seen. From XXS to the LG/XL the Front Range can fit most dogs at most stages of their life, and each size has a good amount of strap length to adjust up or down.
Colors! True to being made for hiking and exploring, most of the colors are bright and vibrant. Some of the newer colors also have colored straps which look really nice. There is also a gray option if you're not a fan of bold colors.
We find the padding and comfort of this harness to be a big plus for some dogs who can chafe easily from straps. There are only one or two points where the straps make direct contact with skin.
Because of the relatively large body section the harness is pretty easy to hold onto if you need to grab a hold of your dog quickly and keep a hold of him.
We've found these harnesses to be extremely durable; you do get your bang for your buck! Ruffwear also has a return policy if your product has a defect.
Once you know what is the top and what is the bottom, it's impossible to get this harness tangled up making for really easy and convenient storage and dressing.
Cons:
Price is definitely one of the largest cons to this harness. It's pretty expensive, and may not be worth purchasing until your dog is large enough for the final harness size they will be.
On some body shapes, the large top and bottom sections can be bulky or matt very long fur. It definitely has more contact with fur than other strap based harnesses.
The front clip is not metal, it is fabric that is reinforced with a strong plastic coating. Some people feel it is flimsy, and don't trust it (although we haven't had any reported problems with the front clip). The front clip can also make it more difficult if you have a large leash clip to attach to it since there isn't much of a gap between the harness and plastic.
If you have an extremely heavy puller, this harness can shift and slide to the side a little bit. This is especially the case if it is not properly fitted.
The bulky top and bottom section can make this harness easy to back out of if you have a Houdini dog who likes to slip equipment. Once they learn how to angle their body, some dogs can escape it no matter how tight you adjust it.
Depending on your dog's shape, the armpit area can also fit a little too snugly and chafe especially if you have a very deep chested dog.
Another one of our most recommended harnesses, the Freedom Harness is a lightweight harness with a martingale-style back clip. Similar to the Ruffwear, we see most people who like it stick with it exclusively for their dog.
Comfort: The velvet under strap allows for a more comfortable strap style harness. This harness is very light weight and allows for a full range of motion if properly fitted. The martingale style back clip constricts if the dog pulls or tries to back out of the harness, but lays flat if not.
Adjustability: The Freedom Harness has four points of adjustability: one at the chest in between the legs, one on the velvet torso strap, and one on each side of the neck.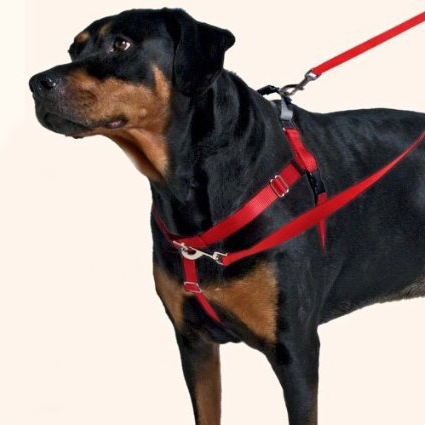 Cost: Around $30 for the various sizes, we find the Freedom Harness to be a nice middle ground between cheaper and more expensive harnesses.
Pros:
The velvet torso strap allows for a much more comfortable fit without much chafing in the chest area.
The multiple points of adjustment gives it a wide range of sizes and body types that it can fit.
The martingale style back clip allows for more control of Houdini dogs who do back out of their equipment. It tightens if they attempt to slip out and loosens when they don't.
The Freedom Harness offers a wide range of colors that are more muted than the Front Range.
The lightweight strappy style is great for long haired dogs or dogs who matt easily.
Cons:
The constricting martingale style feature can stress out some dogs, who are more tactile sensitive, if pulled.
While the velvet under strap and martingale style back allows for easy top and bottom fitting, the straps can sometimes become twisted and difficult to untangle if you're in a hurry.
If you have a strong puller, this harness can also shift to the side depending on how your dog is pulling or how you hold the leash.
The non-velvet straps can chafe some dog as they make the most contact on the dog's body.
Sometimes, whether from being fitted improperly or from your dog's shape, the front strap can sit a little forward and come across the chest and impede a dog's gait.
Unfortunately the Freedom Harness does not come in sizes for dogs smaller than 12lbs.
A very simple harness, the Surefit is lightweight and great for everyday use. We find people who like this harness generally either have smaller dogs or dogs who are growing quickly, and the price point makes it more affordable until the dog is fully grown. While not really a "no-pull" harness, it can be used as one in a pinch.
Comfort: The lightweight material of this harness makes it comfortable for most coat types. It also allows for a full range of motion and gait.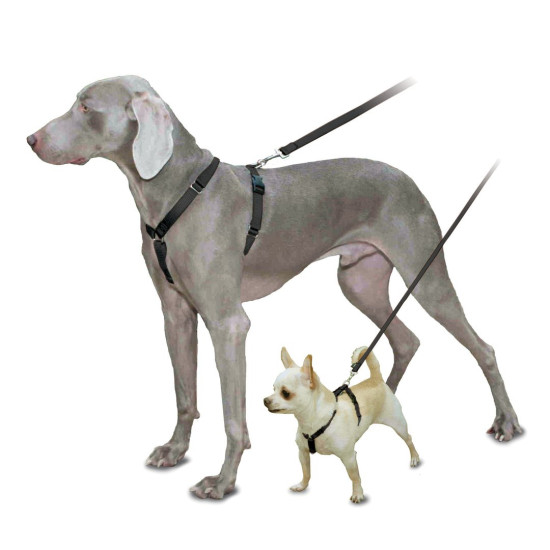 Adjustability: The Surefit Harness has five points of adjustment: two on each side of the neck, two on each side of the chest, and one in between the legs.
Cost: Probably one of the most affordable harnesses, the Surefit ranges from $10-$20 depending on size.
Pros:
The multiple adjustment points allow for a custom fit on most dog body types.
No more than $20 for a Large, the Surefit is an affordable option for many owners, especially for growing puppies.
The slim, lightweight style allows for most dogs to easily wear it without much matting or coat tangling (unless they have longer hair).
If you have a small dog, this is a great option since it is lightweight and comes in very small sizes while still allowing for the occasional front clipping.
Cons:
While there is a front ring on this harness, it is not specifically designed to stop pulling. It can be awkward to clip onto, but it does work if your dog only gets excitable for a moment and can be switched back to the back clip.
The front ring can also hit high on the throat for some dogs if you use it, so be cautious if you have a strong puller.
The nylon straps can chafe at multiple points if you have a dog with sensitive skin.
Some owners do not feel it gives enough support and strength for large dogs (it doesn't seem very "heavy duty").
It can be difficult to figure out which way is correct if you get it tangled up.
This is a very popular harness, and it is available in most commercial pet stores. While it works to curb pulling, it is designed to sit across the chest and impedes a dog's gait.
Comfort: The Easy Walk is a lightweight harness option, and it includes a martingale style front clip that allows it to be more relaxed if the dog is not pulling.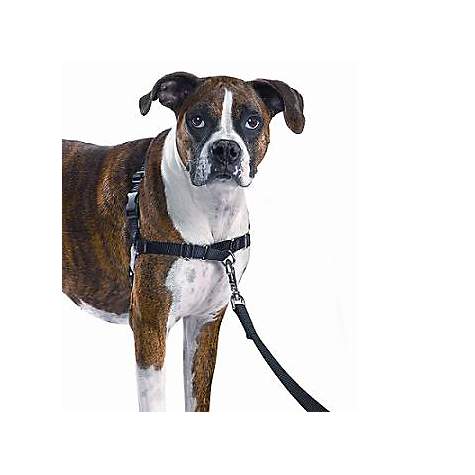 Adjustability: The Easy Walk Harness has four points of adjustment: Two on either side of the back, one on the torso strap, and one on the front strap that goes across the chest.
Cost: Similar to the Surefit, the Easy Walk is generally cost effective at a set $19.95 for all sizes (on Amazon).
Pros:
The price point and high availability is attractive to many owners as they can fit it and return it to a physical store if it doesn't fit.
As long as you know that the clip goes in the front and the odd color goes under the body, it's pretty hard to get this harness tangled up. You can also keep one of the buckles permanently buckled and it makes it easier to suit your dog up.
If you have a Houdini dog the martingale front clip can make it difficult for them to escape it.
Cons:
Of course, our main concern is the fact that this harness always impedes a dog's gait and can cause structural issues if used for strenuous exercise. Honestly this outweighs almost any pro we could offer.
There is no back clip so the walking can be uneven if you have a strong puller. We find that a dual clip harness works best to stop pulling as you have the dog's entire body.
The lack of a back clip also doesn't allow for a relaxed style walk, like a sniff walk, where the dog can choose to go where he wants.
When the martingale clip is not being pulled, the harness can sag even when properly fitted.
These reviews are all based around our personal uses and the experiences of customers. We're obviously biased against harnesses that can impede gait and proper structured exercise, but we also know that everyone has a favorite harness! What harness do you use for your dog? Does it have any outstanding pros or cons? Have you seen it improve your walks? We'd love to know what you guys think or if you have any questions about these harnesses!
____________________________________________________________________________________________
Disclaimer:
This blog post may contain affiliate links. All opinions are our own. Per FTC guidelines, this website may be compensated by companies mentioned through affiliate programs. Any references to third party products, rates, or websites are subject to change without notice. Please do the appropriate research before participating in any third party offers.