We all want amazing photos of our dogs.  Now that we all have good cameras on our phones we snap 100's of photos a day of our dogs sleeping, playing and of course selfies.  What about professional photographs we want to have printed and hung on our walls?  Those are not always as easy to get since our dogs lack training and/or experience around these kinds of settings.  In this post we will share our tips for getting your dog prepared for great photos you take yourself or with a professional photographer.
Teach them Solid Skills:  Basic obedience is a great start to teaching your dog how to pose for the camera.  These would include – sit, down, stay, stand and eye contact.  We would also want to teach our dog to look at a target other than their primary handler.  This might be a wooden spoon with a bit of peanut butter or cream cheese.  Then we can have them look in different directions on cue.
Platform Training:  A very helpful tool in getting great photos of our dog is teaching them to stay on a specific location.  You can start by teaching them to sit or lay down on a chair, stool or small carpet.  Your dog will really enjoy this because it gives them a specific target.  All of their rewards will be delivered directly to them on their platform, too.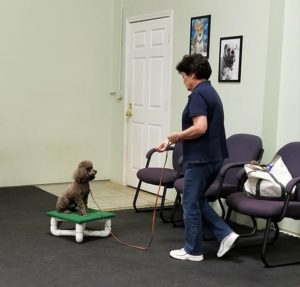 Distance Work:  In addition to the above we will want to add duration (How long can the dog "stay"?) and distance (How far can you go before your dog breaks position?).  Work both of these additional levels of criteria with known skills on the platform.  This way you can get out of the photo and get lots of opportunities to snap some great shots.
Trick Training:  A cute trick can make a really cute photo!  Some tricks your dog might look good doing in a photo are – sit pretty, shake, stand between your feet (if you want to be in the picture), paws up onto a surface or your arm, head tilt, shy (cover your eyes) and bow.  Have fun with your pup allowing their personality to shine!
When having professional photos taken there are a lot of extra things to work through including: lights, bigger camera, backdrops, props and a photographer.  Did you know the camera may look like a giant eye to your dog?  Dogs consider staring rude and threatening.  So you can see how they might find concern with one pointing their direction.  The flash of the lights can also be creepy.  To work through these new things pair them noticing the scary thing with a tasty treat.  We want them to see good things happen when those creepy things are around.  Be careful to introduce in tiny steps to make them feel safe.  Give them many breaks during the training of these items to allow time to process.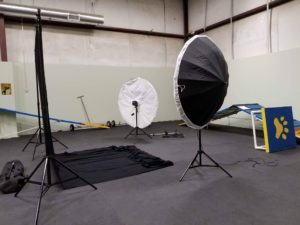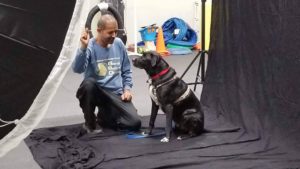 In addition to working with a professional dog trainer, a dog and people friendly photographer is extremely helpful to get great dog photos.  We at Canine Country Academy highly recommend Scott with Pix2Go Studios.  Scott has a great way of helping everyone enjoy the process of getting photos done.  He gets photos you never expected!
If you would like to get great photos of your dog(s), kids, cats or the entire family be sure to reserve your spot for one of our upcoming photo sessions.  These are 30-minute sessions for a fee of $30 (payable at the end of your session directly to Pix2Go Studios).  You will receive assistance from our awesome dog trainers during your session.
Saturday, October 14th from 5pm to 7:30pm  (FULL)
Friday, November 3rd from 1pm to 4pm  (one slot left)
Friday, December 1st from 3:30pm to 7:30pm  (Three slots left)
Please let us know if you have any questions.  Feel free to share this post with anyone who might find value in it's content.  Thank you!